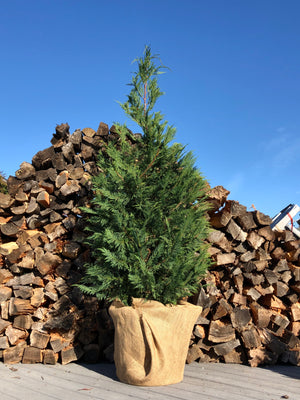 Living Christmas Tree (~5-6')
Sale price Price $150.00 Regular price Unit price / per
A living Christmas tree is the perfect eco-friendly alternative to traditional (and artificial) Christmas trees.
This environmentally conscious and sustainable Christmas Tree is a great option for anyone living in an apartment. Bonus: these living Christmas trees are accepted with Philadelphia fire codes!
Please Note: Living trees are potted and much more narrow than a traditional Christmas Tree. Leyland Cypress trees have become a popular living tree option due to their height and light weight. However, unlike a traditional Christmas tree, their branches are more delicate. They do well with lights and a few lightweight ornaments, but most have trouble supporting heavy ornaments. 
Height: These trees range from 5 to 6' tall from the base of the pot to the tip of the tree. 
*2021 Update: The living trees are slightly shorter and more narrow than last year.  New pictures will be coming soon. 
Living Christmas Tree Rentals vs. Own
We offer two options: a regular purchase, or a Living Christmas Tree Rental, where we deliver & remove your tree and we take care of making sure it gets planted in the spring!  Rentals are great if you don't have the ability to plant the tree yourself!
Living Christmas trees have the best chance for surviving if they are kept inside for no more than 10 days or if they are kept inside until spring. After 7-10 days indoors, the tree comes out of dormancy and begins to grow. Once the tree is no longer dormant it cannot survive the cold winter temps. Therefore our rentals are for a 10 day period.  If you wish to keep your tree longer than 10 days  or if our rental dates do not fit your schedule, you can purchase a tree and keep it inside and plant it yourself in the spring!
The Living Christmas Tree rental includes:
10 Day Rental: Saturday 12/18 to Monday 12/27

Delivery and Pick up between 8am-12pm. Please contact us for an alternative time window. 

Sustainable removal